MONITOR HEALTHCARE CONDUCTS BREAST CANCER SCREENING by Samuella Olaleye
Monitor Healthcare Ltd (MHL), a health services company based in Lagos conducted a free mass breast cancer screening that ran throughout the month of January. According to the CEO of MHL, Dr Olufemi Ogunremi, the company seeks to improve access to affordable health care anytime, anywhere and they chose to contribute to the improvement of the lives of people within their area by conducting a free breast cancer screening. The aim was for MHL to contribute its quota to reduce the mortality rate associated with breast cancer.
The screening was not gender or age specific, so everyone was encouraged to participate. There were no age or gender restrictions placed on the screening and so it was quite easy to participate. In total, about 30 people were screened for breast cancer with the BREAST – i device.
The device is a handheld tool used for screening for abnormalities in the breast to prevent mortality rate as a result of breast cancer. This device is non diagnostic and is very helpful in early detection and mass screening for breast cancer.  It operates with red light technology and isn't harmful to the body.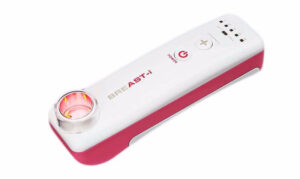 BREAST – i
For participants to be eligible for the screening, they had to:
Download the AreaDoc app from the app store (Monitor Healthcare's interactive medical application). The app is available on both Android and iOS devices.
Request for a screening from one of the doctors on the chat while logged on to the app.
The screening held at the Monitor Healthcare office in Ikeja, Lagos and participants were grateful to have the opportunity to consult with the Doctor on call.
Screenings are still ongoing at Monitor Healthcare Ltd. Those interested in getting screened should call Celina on 08163604714 or send a mail to info@monitorhealthcare.com for more information.
To find out more about Monitor Healthcare and keep up with more information, log on to www.monitorhealthcare.com or follow us on our social media platforms.
Facebook: Monitor Healthcare Ltd
Twitter: @monitorhealthca
IG: @getbreasti
Against Breast Cancer we stand.