WHAT IS CPR?

CPR – Cardiopulmonary Resuscitation – is an emergency life-saving procedure performed when the heart stops beating. Immediate CPR can double or triple chances of survival after cardiac arrest.
             
HOW IS CPR PERFORMED?
There are two commonly known way to perform CPR:
For healthcare providers and those trained: conventional CPR using chest compressions and mouth-to-mouth breathing at a ratio of 30:2 compressions-to-breaths. In adult victims of cardiac arrest, it is reasonable for rescuers to perform chest compressions at a rate of 100 to 120/min and to a depth of at least 2 inches (5 cm) for an average adult, while avoiding excessive chest compression depths (greater than 2.4 inches [6 cm]).
For the general public or bystanders who witness an adult suddenly collapse: compression-only CPR, or Hands-Only CPR. Hands-Only CPR is CPR without mouth-to-mouth breaths. It is recommended for use by people who see a teen or adult suddenly collapse in an out-of-hospital setting (such as at home, at work, during inter-house sports or in a park).
     
BENEFIT OF CPR TRAINING IN SCHOOLS
IT TEACHES LIFE-SAVING SKILL FOR USE IN ANY ENVIRONMENT
The nature of sudden cardiac arrest can provide a false sense of security to high school and college students. Although it routinely occurs during periods of high-intensity exercise, it could strike at any moment. This means sudden cardiac arrest could happen in any location, and to anyone regardless of activity levels.
 Skills gained in a life-saving course can be used in any environment, and areas where high school students congregate, such as restaurants, classrooms, school facilities, and recreational centers, could become the scene of an emergency.
STUDENTS GRADUATE KNOWING HOW TO USE AN AED-CRITICAL FOR ENTRY TO SOME PROFESSIONS
As more companies become aware of the risk of mortality following cardiac arrest, even when caused by lifestyle factors, CPR Certification will become a prerequisite to employment.
Although CPR does provide life-saving support, it is equally important to understand how to apply and use an automated external defibrillator (AED). Certain occupations also mandate such training before ever hiring someone. In other words, health professionals and those involved in the direct care of others, such as daycare centers, may not allow anyone without an existing certification to even apply for employment.
CPR MAY REDUCE RISKY BEHAVIORS IN STUDENT
Completing a Cardiopulmonary Resuscitation course in high school offers significant benefits to participants and everyone they encounter. High school is an already tumultuous time, and no one should face the prospect of increased mortality due to a lack of education.
Also completing such courses provide life-long skills that carry over among careers, recreational activities, and personal endeavors. More schools should consider implementing Cardiopulmonary Resuscitation program requirements.
CPR PROTECTS FROM BRAIN DEATH
During cardiac arrest, the heart stops pumping blood to the brain and other vital organs. With a decrease in blood flow to the brain, the victim falls unconscious. The brain can suffer damage in as few as three minutes without proper blood flow.
After nine minutes without blood flow to the brain, there can be irreversible damage. CPR helps to keep blood flowing and may help minimize the damage to the victim.
   
SPONSOR A CHILD
Click here to sponsor a child
https://monitorhealthcare.com/buku-foundation/
GET A KIT FOR A SCHOOL CHILD OR SCHOOL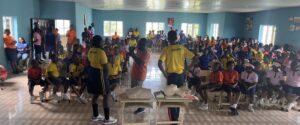 EVERY MINUTE COUNTS IN AN EMERGENCY!
With any medical emergency, every second counts. Victims of Sudden Cardiac Arrest require immediate CPR to prevent damaging effects from lack of blood flow to the brain, heart, lungs, and other organs. CPR can help increase the victim's chance of survival.
STUDENTS COMPLETING A CPR COURSE BEGIN TO THINK ABOUT WAYS TO PREPARE FOR REAL-WORLD DISASTERS
The prevalence of congenital heart problems is a key reason for the higher risk of sudden cardiac arrest among today's youth. In high school populations.
It is important to note the risk of mortality from sudden cardiac arrest increases as individuals age past 25. This is believed to be the result of acquired coronary artery disease. However, risk factors for this disease increase among those with a predisposition to cardiac health problems.
 Thus, screenings for congenital disabilities build awareness of future risks of coronary artery disease and catch cases where sudden cardiac arrest  may occur among high school and college students.
For more information, Kindly reach out via Whatsapp on +234 906 093 8874 or +234 903 222 5052
IG @monitorhealthca