54.3% of the total number of children screened in Agege were reported to have fair, poor, and very poor oral health. On the just concluded screening outreach in Agege community, dental check was one of the few screening carried out and the results shows that children are not left out in screening programmes as dental caries, dental erosion, malocclusion, dental plaque and poor oral hygiene is predominant amongst them .
Currently, it is well-understood that untreated oral health conditions may result in impaired daily activities including poor sleeping and eating. However, the impact of oral health conditions may not just be limited to the children themselves but can impact their families. For instance, thought of failure to instill good oral health practices of their children leading to the oral diseases may render guilt and distress among the parents. Besides, the visit to a dental health care service provider to seek dental treatment for their children by taking time out of their working hours may affect them financially.
The good news is that cavities are preventable. Research has shown that:
Fluoride varnish can prevent about one-third (33%) of cavities in the primary (baby) teeth.
Children living in communities with fluoridated tap water have fewer cavities than children whose water is not fluoridated.
Similarly, children who brush daily with fluoride toothpaste will have fewer cavities.
Dental sealants can also prevent cavities for many years. Applying dental sealants to the chewing surfaces of the back teeth prevent 80% of cavities.
Poor oral health can cause pain and discomfort, embarrassment, low self-esteem, and inability to perform activities of daily life. Children with bad teeth may not grow properly, be underweight, show irritability, be more prone to illness, have higher rates of hospital admission, and complain of sleep disruption hence, causing discomfort to parents or wards.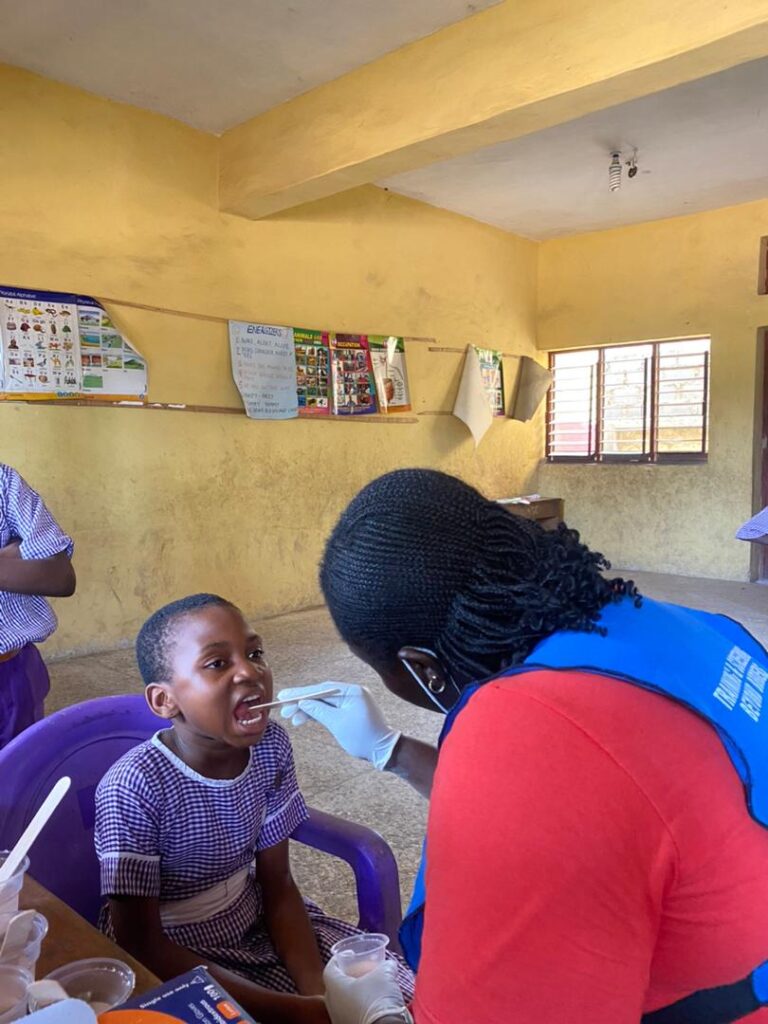 Regular assessment and screening of the teeth and gums in children also helps detect many other general health conditions such as vitamin deficiencies, bruxism (tooth grinding), tooth erosion, mouth odor and acid reflux. These screening allows early prevention, correction of tooth decay and abnormalities. Moreover, tumors of the mouth are also caught early by preventive dental checkups.
GET YOUR CHILD OR WARD SCREENED AND KNOWS THE STATUS OF THEIR ORAL HEALTH!
CALL OR SEND US A WHATSAPP MESSAGE ON 09032225052 OR 09060938874 TO BOOK YOUR DENTAL CHECKS.